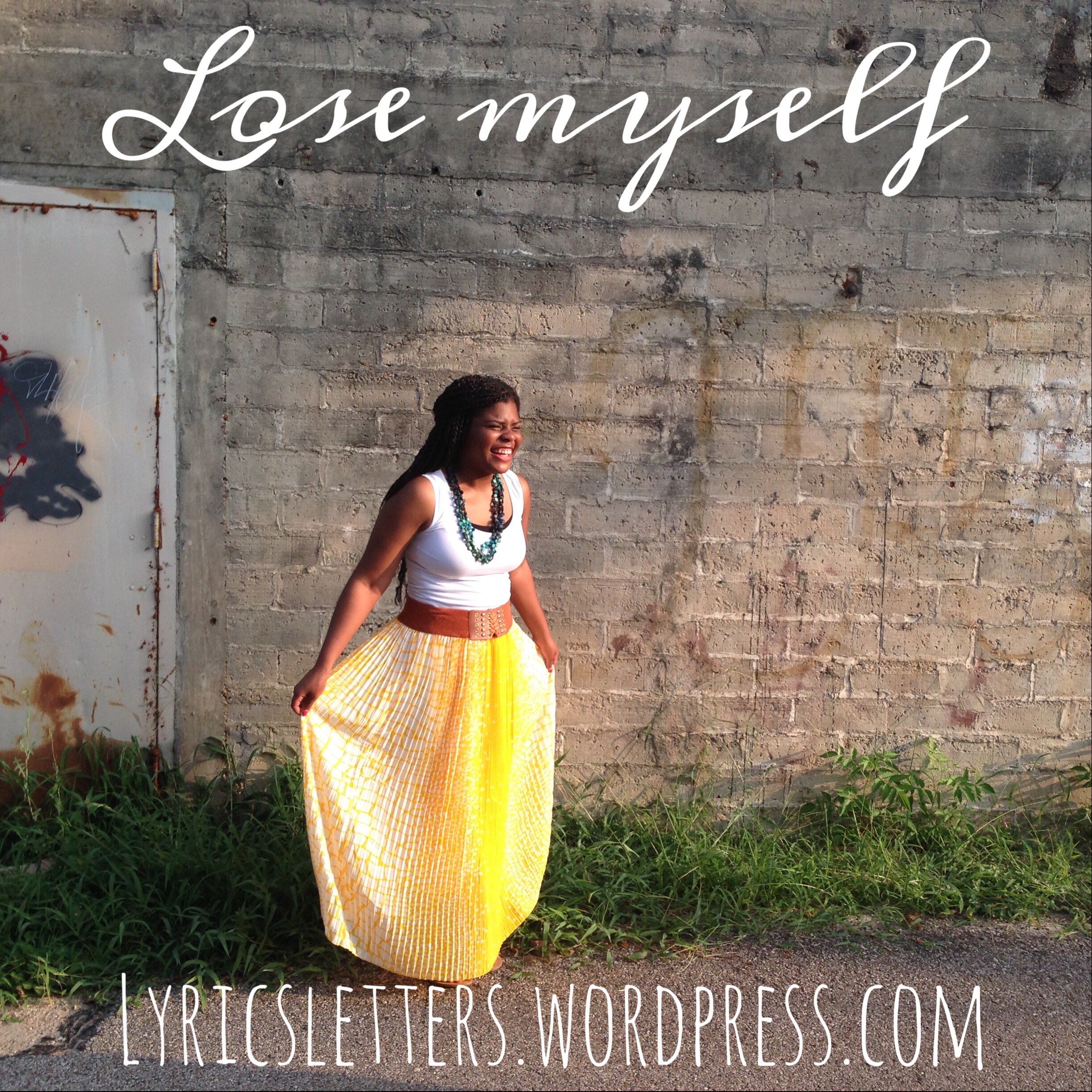 I was reminded of the song "lose myself by Lauryn Hill" as I read Jen Hatmaker's book Interrupted (The expanded version is coming out soon. Get it. You won't be sorry). In cooperate America, its very clear that in order to gain "success" you have to climb your way to the top. One of the higher up's in my department put it this way," You have to play the game." I left that conversation even more confident that I was not made for the game nor did I want to play it. If playing the game was just for money, a title, pomp and circumstance; then I would not "succeed" in corporate America. I attended a meeting with someone and I left in tears. I was completely wrecked because everything I've been told to fight for in my career is not what I am passionate about. Trust me, I have tried to picture myself at a big desk at a great company climbing the ladder and after a few months, I am once again convinced, that is not the life for me; however, it is the life for some people and if you are that person, by all means please run in your lane, and succeed. As much as I detest this concept of fighting your way to the top it is not just in corporate America; I've seen this "race to the top" in church and even Christian organizations.
Fighting your way to the top in church may be guised with a seemingly well meaning intention but we all know the truth. Working your way to the "top" of the church world may equate to joining the "ranks" of: Priscila Shrier, Christine Caine, Beth Moore, Robert Madu, Chad Veach, Bob Goff, etc. The list could go on. We've all had our moments of admiration and awe that turn into a selfish desire to solely and maybe subconsciously pursue that platform. Those people are in their God-given lane and we can't mimic that. In church we see a pattern: you work the system of who you know -->Gain a position-->Get recognition-Its a tiring game. Luke talks about this is Chapter 14 verse 11 "If you walk around with your nose in the air, you're going to end up flat on your face. But if you're content to be simply yourself, you will become more than yourself." The Amplified Bible states it this way, "For everyone who exalts himself will be humbled (ranked below others who are honored or rewarded), and he who humbles himself (keeps a modest opinion of himself and behaves accordingly) will be exalted (elevated in rank)." Even still, Jesus is not saying, try to be seemingly "humble" so you will be elevated. If that is what we think he is saying, we (I) have missed the point.
I think Jen describes it best:
"I hate the top. I hate who I have to be to live there. I hate the biblical two step I have to perform to justify top-dwelling. I hate the posturing up there...I detest the fear that haunts every decision. It's a ridiculous game where everyone is either scratching your back or stabbing you in the back. Depending on whether your rung is above or below theirs. The self-congratulatory blustering up there is abhorrent. I'm so over it.Okay maybe it would be more true to say I want to be so over it. I'm trying to be over it."
When, I read these words, it was like someone articulated my feelings over the past few years. You don't want to play the game, in fact you are trying to get over it, because you are so done. Desperately done. The fact still remains that we are human and have a flesh. I have realized that I need to be "done" daily. I am so susceptible to the game. I've even found myself playing at times. Only to be reminded of who I am and how far I've allowed myself to drift from the truth. The line Jen stated that brings it all home is this: "In order for God's kingdom to come, my kingdom had to go." I can't tell you how many times I have prayed anxious prayers to the Lord crying out for "more of Him and less of me" and I've spent years earnestly soaking in more of me. Can I tell you, people, "I'm trying to be over it." So today I chose to be done and tomorrow I will do the same and so forth. Even when I chose the right mindset, I may slip and I may fall but I am starting somewhere.
I've spent a lot of time missing the main point. I don't have time to miss the point anymore. I want to keep the main thing the main thing. My scripture for this year has been Micah 6:8. It is hanging on my cork board at work. The minute I feel myself wandering from that and seeking success or fame and a following, I am missing it. I must draw myself back to square one: this is all about His kingdom.  I just get to be apart of it. How wonderful that he let's me be apart. Literally he is letting me in on what he is doing.
God gave me this dream to have a non-profit for teen mothers. I have labored and prayed over this dream for years and I continue to pray over it. One thing I have to check myself on, am I missing the point? Am I missing it? God don't let me miss the point of all of this. Truth is, I have a desire to help one momma at a time. It is so easy to get caught up in the emotion of doing something and wanting it to be big. When I find myself heading in that direction, I have to hit the breaks. The main thing is loving people, God's people. It's not about me. The dream was never about me. It was about God entrusting me to carry it. To love his people. To serve his people. Do I know what all of this will evolve into? No, I don't. I do know, it's not about a good social media campaign, marketing, or position. I so desperately want to get that concept with all I am. I want to dwell where Jesus is choose to and make my home there.
This weekend a Bishop Matthew, talked about home. How many people are trying to find "home" and a place to belong. Truth is, as Christians, we will never feel fully at home here. More importantly, "God's love is inside of us and his home is in us." So no matter where you go or where God sends you, his home is in us. "I will not leave you orphaned. I'm coming back. In just a little while the world will no longer see me, but you're going to see me because I am alive and you're about to come alive. At that moment you will know absolutely that I'm in my Father, and you're in me, and I'm in you (John 14:18-20)."
So instead of me trying to clammer to the top at church, work, or with HHope. I am humbly seeking Christ daily, to learn how to let his love flow through me and draw people home- to Christ. This peace, joy, and love wasn't meant for me to keep it to myself. It was mean to be shared.
I can't ignore the hurting, broken, those in poverty, and the extreme needs all around the world. "Pure and genuine religion in the sight of God the Father means caring for orphans and widows in their distress and refusing to let the world corrupt you." (James 1:27). I refuse to befriend apathy and pride. I can't do it anymore. I must make more of an effort to lay "Faitth and all of her agendas" down daily. 
I want to lose myself so I can wake up, be present, and fully engaged in God's kingdom, not my own.
All Son's and Daughters sum up my heart beat:
"Wake up, wake up, wake upwake up all you sleepersStand up, stand upStand up all you dreamersHands up, hands upHands up all believersTake up your cross, carry it on"
[youtube https://www.youtube.com/watch?v=pTuJzdFyKU8&w=560&h=315]